The Royalton Riviera Cancun Resort & Spa is an all-inclusive resort along the Mayan Riviera coast in Mexico. Located within a short drive (about twenty minutes) from the Cancun airport sits this huge and beautiful resort!
About the Resort
Getting There
Once we arrived in Cancun and went through the rigamarole of the airport, and collected our bags we easily hopped on the transfer shuttle that took us to our hotel. The shuttle was arranged as part of our all-inclusive package. It was a fairly quick drive and all the passengers on the shuttle were going to the same resort. So that was a relief!
This post may contain affiliate links. This means if you click through and buy, we may earn a small commission. (At no cost to you.) Please see our full disclosure for more details.
Checking In
On first impression, we thought the hotel looked beautiful, busy and like a lot of fun!
Sadly, I was quickly turned into a bit of a bad mood when we waited almost an hour to check in to our room. It was so painfully slow.
Once it was our turn to check in it all went fairly smooth until they realized they were out of child wristbands. They kindly asked us to return later that evening to pick up the bands. We arrived after supper to find that they still didn't have any. So then back again the next day.
This kind of thing bothers me. I like the places I'm staying at to be more on the ball and organized. The resort seems to be a bit lacking in this department, but then do you chalk it up to being a more laid-back place?
Maybe? I'll cut them some slack.
And one thing they aren't lacking in is friendliness.
Diamond Club Upgrade
While we were checking in, we were asked if we'd like to upgrade our reservation to a Diamond Club room. I am so so sorry, but I cannot remember how much this cost. Was it $250 or $500 (USD)? I've been trying to remember; unfortunately, that seems to be something that will be lost to the sands of time.
Anyways, we upgraded, even though I was a bit unclear what we'd be getting. But after a bit of googling, I was happy with our decision.
There are quite a few perks to upgrading to the Diamond Club. For example, a swimming pool and bar only for Diamond Club guests, a designated beach area and your very own butler. Sounds pretty good, huh?
But my two favourite perks that made the upgrade worthwhile are:
Your butler will make reservations for you at any of the resort's restaurants that you choose — saving you the time and energy of figuring it all out.
You get 10% off at the Spa. Plus an hour every day in the hydrotherapy. I LOVED the hydrotherapy circuit at the Spa.
I had some reservations about having a butler thinking it might be a tad awkward, but my worries were unfounded. He was super friendly and checked in on us every morning and evening to see if we needed anything and never imposed.
Our Room
We stayed in a beautiful one-bedroom presidential suite that was on the main floor, which gave us access to our little pool area. Everyone's favourite thing about our stay was the many pools at this resort. And best of all, we had this beautiful swim-up suite with a nice deck. The kids loved being able to hop right into the pool from our room.
Our room had one king bed and a pull-out couch. The King bed was very comfortable with soft and clean bedding. The hide a bed, on the other hand, was not the most comfortable (which tends to be the case often with those kinds of beds!), but the kids didn't mind too much. Next time I would opt for a different style of room with a real bed for them to sleep in.
Storage was not an issue at all in our room. With one large closet with a safe in the bathroom, a smaller closet with another safe in the front entry, plus all the drawers in the two dressers we had more than enough space for all of our stuff.
There was a really great mini-bar with drinks for everyone in the family. Plus quite a few snacks which were really helpful when we left the resort for an excursion.
My least favourite thing about this resort was the musty smell that we had in our room. It's such a common problem at humid destinations that I'm not too sure how you can avoid it, but my advice would be to try to stay in the newest rooms they have available. We were in the oldest part of the hotel, and I found the smell to be overwhelming at times.
*Tip: You may want to take advantage of the online room selection option that Royalton Riviera Cancun offers. It's available for an extra cost, but it will get you into the newest rooms plus help with a speedier check-in.
The Bedroom
The Main Living Area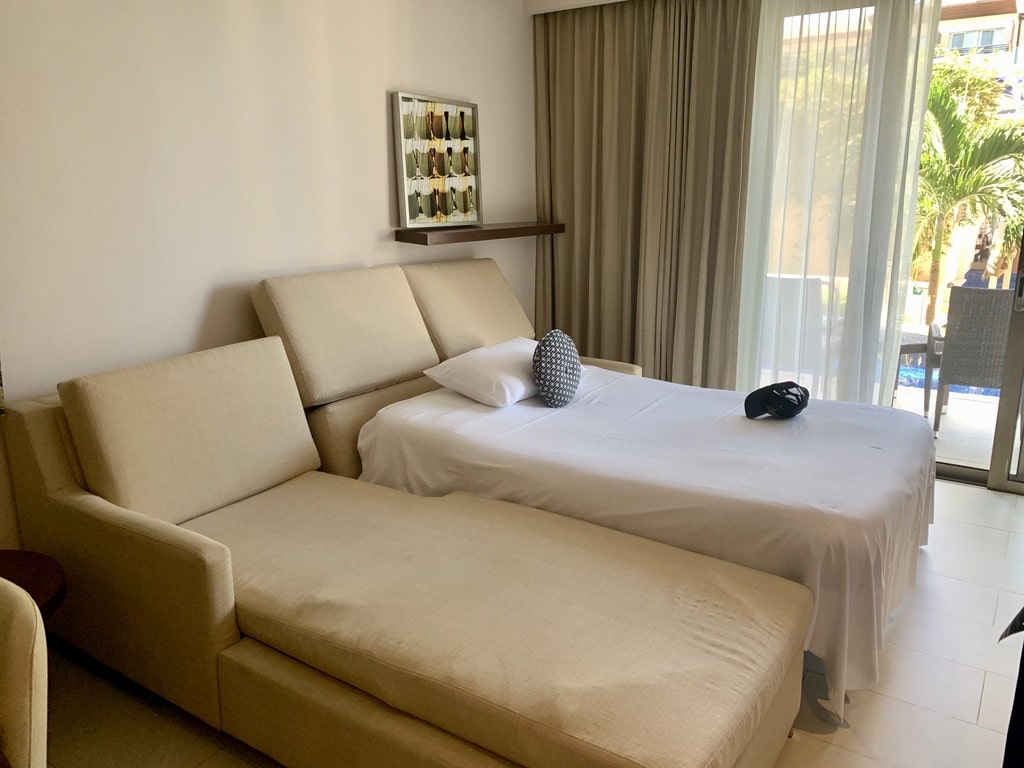 The Bathroom
This bathroom was spa-like, beautiful, and fun with this neat round jetted tub. The shower was AMAZING! A rainfall shower head with jets coming out from the wall was pure bliss. The bathroom countertop had plenty of storage space. And the two sinks were great for a family.
We also had another small bathroom in the main living area, which is super handy when you're travelling with a family!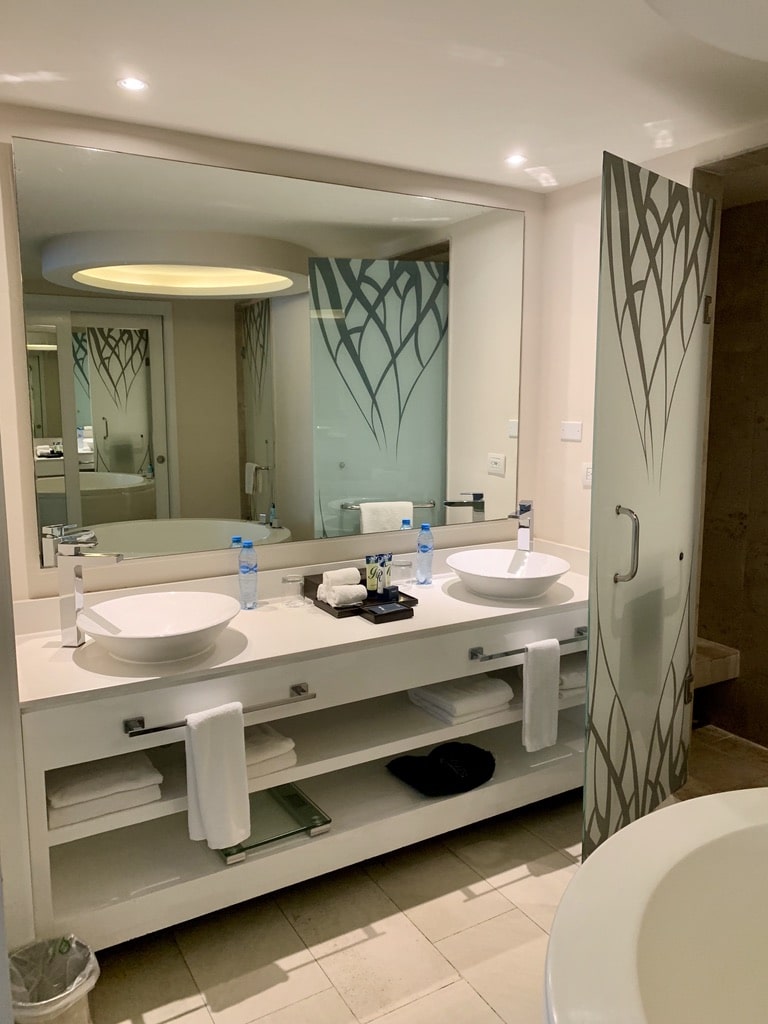 Restaurants
There are eight restaurants at the Royalton Riviera Cancun, plus one more if you count the sports bar SCORE.
Gourmet Marche A gigantic buffet restaurant serving pretty much anything you can think of. Our kids loved it here! We give this restaurant a 5/5!
Armadillo Located in the Diamond Club area, this restaurant serves Tex Mex cuisine. We had a delicious meal here of fajitas, quesadillas, and churros for dessert! Very good! 4.5/5
Hunter A beautifully decorated steakhouse with fantastic food! You can watch the chefs cook up your steak while you sip on a cocktail or glass of wine. Superb! 5/5
Zen Japanese Teppanyaki restaurants are always so much fun! The kids had a blast here. The chef was engaging, and the food was delicious. The style of dining is also an excellent way to meet people too! A neat experience, 4/5!
Grazie Italian Restaurant This was my favourite restaurant at the resort. Everything we had here was delicious. We sat outside and enjoyed the atmosphere. Very, very good. 5/5!
Taj Indian Cusine This was one restaurant we did not eat at during our trip.
Agave Mexican Restaurant This was my least favourite place we ate at during our trip. I was expecting it to be the best, considering we were in Mexico, but I found the buffet to have much better Mexican dishes. It was disappointing, 2/5.
Beach Club Grille This restaurant is located right off the beach with beautiful views of the ocean. We were excited to try this place out, but I can't even remember if we liked the food here or not. We ate lunch here one afternoon, and it took so long to get our food (45 mins for some pasta and a chicken wrap), everyone was hangry, and in a bad mood by the time we ate I couldn't say either way. Way too slow and the food wasn't memorable, 3/5.
Fun Stuff
The Beach
The beach at the Royalton Riviera Cancun is beautiful (most days.) On our first full day we walked down and spent the morning at the beach and it was beautiful, but then the next day it was covered in seaweed. The hotel does come along and clean it up after a while and then it's beautiful again. But I wouldn't plan my day around the beach until you have a good look at the conditions. The kids were really turned off by the massive amount of seaweed.
The beach loungers are very comfortable and would be easy to spend the day relaxing in. The area where the loungers are set up is quite shady under the tall palm trees. So, if you are a sun worshipper, you may want to move your chair a bit. The water was calm and perfect for swimming on most days. Peddlers were walking up and down the beach, but they did not bother us.
We had so much fun on our trip! We love our excursions to Xcaret and Xenses Parks. Find out more 👉 here.
The Pools
There are four main pool areas at the Royalton Riviera Cancun. With lots of seating on loungers and day beds, it's really easy to enjoy the pool all day long. Two big pools are located in the main building area. This is a fun area to sit around with lively music and often some kind of activity going on. The second area and probably the busiest is what I refer to as the kid area. Perfect for anyone with kids, especially little ones it offers a splash park with small waterslides.
I'm sure you noticed the giant strawberry in the photo above. These floaties are the thing to have at this resort. They sell tons of them here. Every kid seems to have one, so of course, my kids wanted one. I paid wayyy too much money on this thing. So my advice to you is if you think your kids are going to beg you for one as our kids did, buy them at home (Or you can get one here) before you come. You will be glad you did!
Other Fun Stuff
This hotel always seemed to have something going on — lots of fun stuff to keep you and the kids busy. My kids liked painting ceramics. It cost extra, but the kids made some neat and unique souvenirs.
Conclusion
We enjoyed our week-long holiday at the Royalton Riviera Cancun. Our room was beautiful, clean, and lots of fun with the swim out off of our deck. The selection of restaurants easily kept everyone happy. Although I'm sure if it were up to the kids, they would have eaten at the buffet restaurant Gourmet Marche. With lots of fun activities, pools and a white sand beach right at the hotel, you don't need to leave to enjoy yourself easily for the week. Although if you're like us and enjoy exploring the local sites and culture, there is lot's to do within easy access to keep you satisfied.
Our kids loved it here so much they reminisce and ask to go back at least once every month!