For over four thousand years, the world-famous megalithic structure of Stonehenge has stood the test of time. The mystery and allure of this historic site have fascinated humans for as long as we have written history.
We were so lucky to be able to take a day trip to the stone circle site of Stonehenge during our trip to London last fall. (October 2019) and I am so glad that we did. It was an experience that we won't soon forget.
This post may contain affiliate links. This means if you click through and buy, we may earn a small commission. (At no cost to you.) Please see our full disclosure for more details.
Where Is Stonehenge?
Stonehenge is located 3 kilometres (2 miles) from the town of Amesbury in Wiltshire.
The closest large center, Salisbury, is about fifteen kilometres (9 miles) away.
Stonehenge is 145 kilometres (90 miles) from London
Stonehenge sits on the grassy lands of the Salisbury Plains.
I'll never forget when our bus first came over the hill and into the Salisbury Plain, and we got our first glimpse of the beautiful scenery. Instantly, I could understand why this area was chosen as such a prominent place.
As I was busy looking at the scenery and burial mounds dotting the landscape all of a sudden there it was; Stonehenge!
You might also like this post we wrote: Our Stay At The Vintry & Mercer Hotel In London
How To Get Tickets
You can purchase your tickets online in advance easily on the National Trust Website.
You'll save 10% if you book online versus paying when you arrive.
How Much Is Admission to Stonehenge?
As of spring 2020:
Adult £ 19.50
Child (5-17) £ 11.70
Family (2 adults & up to 3 kids) £ 50.70
If you are doing a bit of travelling throughout England and plan to visit other sites, such as castles, Roman sites, gardens, palaces, churches, etc. It may be worth researching if an English Heritage membership may be worth your while. You might save you quite a bit of money, depending on your plans.
How to Get To Stonehenge
Train or Bus?
If you'd don't want to drive yourself or hop on one of the many tours, it's quite easy to get to Stonehenge via public transportation such as National Rail.
Although it is not as direct and your journey to Stonehenge from London will take a bit longer, it still is a great option.
When taking a day trip to Stonehenge from London, the most direct train or bus route stops in Salisbury first. Once you arrive in Salisbury, you'll need to get onto the Stonehenge tour bus.
Stonehenge Tour is an excellent option for getting yourself to Stonehenge once you've arrived in Salisbury.
Take A Tour
We opted for a tour for our day trip to Stonehenge. We booked the Stonehenge & Bath Day Trip From London. It was so easy; we were well taken care of.
Our transportation and admission to the site were included with the tour. We really enjoyed hearing the generous amount of stories, details, historical facts and information provided by our excellent tour guide. Meals and shopping were at our own cost and not included in the tour price.
Riding in a luxurious and comfortable double-decker coach bus, we left Victoria Coach Station at around eight in the morning. We were on the road for just over two hours before we arrived at Stonehenge.
Several different tour combinations from London will get you to the site such as this one –> Windsor, Stonehenge & Bath Tour From London
If you'd rather have a more personalized private tour, we recommend Tours By Locals. Although we have not personally toured with them yet, they do have excellent reviews.
Make A Plan For How To Use Your Time Best
Once we arrived, we had about two hours on our own to visit Stonehenge, check out the visitor centre, gift shop and grab a bite to eat. Time seemed to go by so quickly we felt like we could have stayed longer for sure!
Before you arrive at Stonehenge, it might be wise to have a game plan for how to use your two hours best.
We went directly to the site and spent almost all of our time there. But then felt rushed to grab some lunch, have a quick look in the gift shop and ended up not having any time left for the exhibits and neolithic village.
Are you looking for a unique afternoon tea while visiting London? You might want to read our post all about Our Experience On The B-Bakery Afternoon Tea Bus Tour.
Visiting Stonehenge
As part of our tour, we were provided with an audio guide when we first arrived at Stonehenge.
Whether you arrive at Stonehenge as part of a tour or on your own, the audio guide is free. We found it interesting and highly recommend giving it a listen.
In hindsight, the audio tour could be what took up a good chunk of our two hours.
*Tip: If you are looking to save a bit of time and avoid lineups, you can download the Stonehenge Tour App off iTunes and use your headphones.
To easily get to the site there are shuttles available taking visitors back and forth between the site, visitors centre and parking lot.
Take into consideration the waiting and riding time when you are planning how to best use your time. There will likely be a lineup, and you'll have to wait for a few minutes as they haul people back and forth.
After taking in Stonehenge, walking the path, listening to the audio guide and taking a million pictures, we hopped back onto the shuttle heading to the visitors centre.
Is Stonehenge Worth The Fuss?
I have had many people ask me if I thought it was a waste of time, or found the site to be underwhelming.
The answer is no.
Honestly, it was an experience that I will remember for the rest of my life.
Was it because I was awed by the stone circle? Was it because I was amazed by the fact that I was looking at something from thousands of years ago? Or that it was such a wondrous feat of engineering for the period?
Those reasons alone are enough to find Stonehenge worth a day trip.
But what struck me the most was the energy of the stone circle.
The stones are magnetic.
I would look away to admire the gorgeous surrounding scenery or to see how that last picture turned out on my camera, but as soon as I looked away, I felt like my eyes were being pulled back to look at the stones.
I can see how this place was an important spiritual center for thousands of years with the energy that radiates from it.
History Bite
What is the Neolithic period?
The Neolithic period is also called the New Stone Age. It marks the end of the Stone Age, and the change when humans began to shift from being hunters gathers to an agricultural society. This period lasted from approximately 6000 to 2000 B.C.
What is the Bronze Age?
The Bronze Age began after the Neolithic period in 2000 B.C. and lasted until the Iron Age, which started in 800 B.C. The most crucial factor of this period was, you guessed it… bronze!
People were now able to make metal weapons and tools. It was a giant shift in human civilization. They could now create whatever they could dream up in bronze instead of looking to what the land could provide.
What is a megalith?
A megalith is a prehistoric monument that contains large stones. Stonehenge is only one of many of these mysterious sites that are found all over the world.
A Bit Of The History Of Stonehenge
Did you know that up until 1977, you could freely walk, touch and climb among the stones of Stonehenge?
I found it unbelievable when our tour guide told us that when he was a child, his family would have picnics on top of the fallen stones. It seems so wild to me that this was even possible. But what a great experience they had!
This site has stood the test of time for thousands of years. Built around 2500 B.C., Stonehenge had been significant to the people of the area long before this time.
Archeologists have found that the site where Stonehenge sits has been in use for way longer than we can imagine, as far back as 8500 B.C. That's over ten thousand years ago!
What was the purpose of Stonehenge?
Many of Stonehenge's mysteries have yet to be revealed. But there have been several ideas as to what was the purpose of the site.
It is believed that the primary reason the site was as a spiritual centre.
A time of great importance to neolithic and bronze age people was the changing of the seasons, especially the summer and winter solstices. It was a time of celebration and still recognized at Stonehenge today.
Another idea is that the site was used as a cemetery. Bones and cremated remains have been found in the area surrounding the monument. The stones may have also been markers for remembering and honouring ancestors.
The site was also a place of healing. The smaller stones, Bluestones, were well known for their healing properties.
The Stones
Sarsen stones are a tough sandstone that weighs on average 25 tonnes each. They are thirteen feet (4 metres) tall and seven feet (2.1 metres) wide.
Sarsen stones were found 30 kilometres (19 miles) away from the site in the Marlborough Hills of North Wiltshire.
Archeological research has found that the sarsen stones were hauled on a wooden raft (like the picture below). Recreations have shown that it would take two hundred men twelve days to move one sarsen stone the 30 kilometres.
Bluestones were brought to Stonehenge from much further away. They were brought over 240 kilometres away (150 miles) from the Preseli Hills in Wales.
FAQs About Stonehenge
When Is The Best Time To Visit?
This prehistoric site is open for visitors year-round except for Christmas Day.
You may also have difficulty visiting during the summer and winter solstice. It gets jam-packed!
The summer months are the busiest.
Like most tourist destinations, the morning and evening are the least busy. Make sure you check what time the site opens and closes as they change throughout the year. Also, take note of when they stop accepting admissions to the site especially towards the end of the day.
How Close To The Monument Can We Get?
There is a designated walking path for your best view of all sides of the monument. Check out the Google Map below to get an idea of what to expect.
Getting up-close to stones is off-limits during regular opening hours. If this is something you've dreamed of doing, there are only two ways you can get access.
Stonehenge Summer Solstice Coach Trip is one option if you'd like to take part in the summer solstice at Stonehenge.
Another option is to book a special early morning tour before the general public is allowed in.
The Special Stone Circle Experience is booked directly with English Heritage, or you can book a full-day tour where this is one of the stops.
CAN I TOUCH THE STONES?
No! As a UNESCO Heritage Site touching the stones is prohibited. And sorry to break it to you, you will not go back in time to find a hunky Scottish husband if you do touch them. Likely you'll get in trouble, and your day will be spoiled. So please don't. We want to keep these historic sites in the best condition possible for generations to come. Steps off soapbox…
Is It Worth It To Take Time Out Of My Holiday To Visit The Site?
Yes, absolutely! Even though Stonehenge was completed over four thousand years ago, it was determined to be a site of significant importance as far back as 8500 B.C. Why not see for yourself what the big deal is and why is it so famous?
Try to go there without any expectations. Do your best not to compare it to anything modern. Step into the shoes of the people of that period. Read up on some of the histories. Understand what you're looking at.'
Seriously, it's still worth a trip. There is something about the energy of this place that will have you spellbound.
Will My Kids Like Taking A Day Trip To Stonehenge?
Probably. That all depends on you. Your kids will like what you like. They tend to feed off of our energy, so I always try to keep it light, fun and no pressure.
Throw in an interesting fact or two. Try to make it enjoyable. Try to read up on the history of the stones before you arrive, so you have pertinent knowledge at hand to help the kids understand what they are seeing.
The visitor centre has some fun activities available for the whole family. Check out the neolithic village and see inside a neolithic hut. Or try your best to lift one of the stones. To find out more about what other exhibits are available, click here.
If all else fails, there's a good gift shop and treats at the cafe.
What Souvenier Should I Get From The Shop?
There is lots of cool stuff in the gift shop. But my favourite thing was this Stonehenge Rocks T-Shirt.
What Should I Try At The Concession?
A rock bun! They are so yummy!
We had a quick, grab and go lunch from the cafe after we toured the site. Everything we had was delicious. Try the sausage roll if that's your thing!
Conclusion
A day trip to Stonehenge is something that many people dream about seeing.
To see the world-famous stone circle is truly a fantastic experience. The magnetic energy that radiates from the stones will be an experience you'll likely not forget any time soon.
Taking a day trip from London to see Stonehenge is worth your time!
Pin It For Later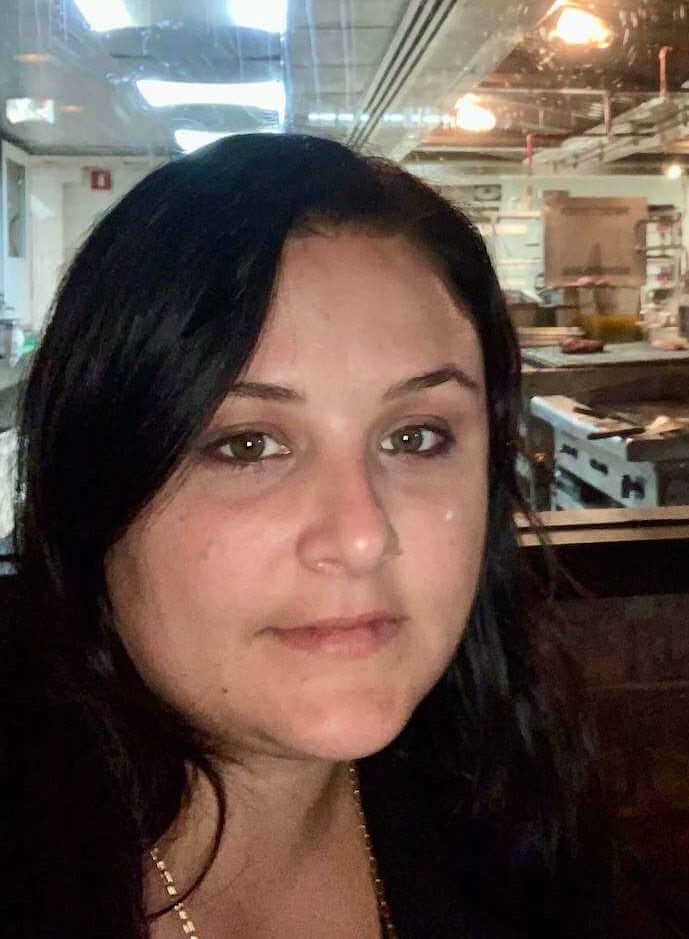 Mom to 3 awesome kids, several pets and married to a big kid who makes me laugh.  My goal is to inspire moms like me to find ways to travel and reconnect with their families.