Drumheller is such a fun and exciting place to visit in Alberta. You can visit for a few days or easily take a day trip out from Calgary. There are lots of fun activities and sights to see in this town. Here are our top ten attractions in Drumheller, Alberta, that you will want to see!
How far is Drumheller From Calgary?
Drumheller is 135 km from Calgary, which takes about a 1.5-hour drive.
How many days do you need to explore Drumheller?
You can see a lot of attractions on a day trip. I do think it would be a jam-packed and long day. But definitely doable!
For the best experience, we recommend at least two or three days.
*If you plan to stay overnight, make sure to book accommodations in advance. Hotels and campgrounds in and around Drumheller are often fully booked.
This post may contain affiliate links. This means if you click through and buy, we may earn a small commission. (At no cost to you.) Please see our full disclosure for more details.
1) Royal Tyrrell Museum
The Royal Tyrrell Museum is one of the biggest draws for people who visit the Drumheller valley.
It is one of the best museums in the world dedicated to dinosaurs and all things paleontology and a place that everyone in the family will find fascinating.
My favourite exhibits are the T-Rex skeleton know as black beauty (pictured above), the giant "water dinosaur" (oh boy, I apologize, not sure what the proper name is ) and the cretaceous garden is beautiful!
They offer lots of programmes for anyone who'd like a more in-depth experience (especially kids!) such as Dinosite and Raptor Assembly.
To find out what programs are being offered, visit their website here.
The museum offers free parking, a great gift shop, cafeteria, and plenty of outdoor trails for hiking, picnic tables and a playground for the kids.
*Please note: Check the museum's website well before you plan to arrive. Due to precautions for COVID-19 tickets need to be booked in advance. These are dated and timed tickets to limit the number of people in the museum at one time. Book your tickets online here.
2) Hoodoos
These strange rock formations are an iconic part of Drumheller and the badlands. They are formed after thousands of years of erosion from wind, water and weather.
A few different kinds of rocks make up the Hoodoos. Some erode easier/faster than others, which causes the unique look of these formations.
The Hoodoos are free to visit. Last summer (2019) the town of Drumheller asked for a parking fee of $1.50 per car
Please don't go there expecting giant rock formations; the Hoodoos are not massive. They stand approximately five to seven metres tall.
I remember our first visit to the Hoodoos was when my oldest was a toddler, so around 2005 or 2006. The site had not been fenced off and was open for anyone to climb on. I'm ashamed to admit that we plopped her right on top of one and took photos.
If you want to spend a bit more time here, this is a great place to hike and climb up the hills. You will be treated to a beautiful view of the hoodoos, the Red Deer River and the valley below.
There is an ice cream truck to grab a cold treat or a bottle of water and washrooms (porta-potties) available here if you need them.
3) Worlds Largest Dinosaur
You'll find the world's largest dinosaur right in the town of Drumheller. It's hard to miss at 25 metres / 86 feet tall.
One of the fun things about this attraction is you can climb right up into the dinosaur's mouth for a beautiful view of the river valley.
It's a bit of work to the top! You'll need to climb 106 stairs. Kids, in particular love this activity!
4) Atlas Coal Mine
Visit this historic coal mine to see the working conditions of coal miners. The Atlas Coal Mine was in operation from the 1930s to the 1970s.
The cost for admission is $10 for ages six and up (5 and under are free)
The guided tours are great, try to get one if you can!
Visit their website (here) to pre-book your tickets.
5) Suspension Bridge
Take a walk over across the Red Deer River on the Rosedale Suspension bridge. Built for coal miners to have easy access across the river, it's now w popular destination for tourists and locals.
Walk across and hike up to the top of hills for another view of the river valley.
** The suspension bridge is temporarily closed as of July 2021.
6) East Coulee School Museum
Take a tour of what the 1930s looked like for people who resided in the Drumheller area. Make sure to stop into the classroom to get your lessons from Miss. Morrison.
After you tour the school, stop in at their tea room and cafe for a drink and a bite to eat.
7) The Little Church
This little white church is so cute and is actually a "working" church that people can get married in if they'd like. There is room inside for six people to watch as you say "I Do."
The little church is a quick stop. You'll only need ten to twenty minutes.
8) Horseshoe Canyon & Horsethief Canyon
Both Horseshoe Canyon and Horsethief Canyon are beautiful landscapes that you can easily spend part of your day.
The weather can get pretty hot in the badlands. Make sure to have a hat, water and sunscreen.
Horseshoe Canyon
Horseshoe Canyon is located on Hiway 9 south of Drumheller. It's about a 10-minute drive out of town.
There are great walking and hiking paths that are easy for kids.
Horsethief Canyon
Horsethief Canyon is a bit more rustic and off the beaten path. The paths are not as developed and are better for more experienced hikers.
Mountain View Helicopters offers aerial tours of both Horseshoe Canyon and Horsethief Canyon. Check out their website here.
9) 11 Bridges to Wayne & Last Chance Saloon
Take a detour to Wayne (just outside of Drumheller). You'll have fun driving over the eleven bridges.
Once you've found all eleven bridges head back to the Last Chance Saloon for a drink and a bite to eat to check this cool place out!
This bar and hotel are over a hundred years old. The inside is covered with old antiques from Drumheller's days gone by and past coal mining days. There is a great patio behind the bar to sit and listen to some music enjoying the beautiful weather.
The Last Chance Saloon is full of crazy and exciting history. One look around this bar, and you'll find something interesting like the bullet holes on the wall.
A bonus is this a bar and restaurant that you can take your kids.
10) Search for Dinos Around Drumheller
There are dinosaurs all over Drumheller. You'll see them on street corners, on rooftops and even in people's front yards.
We think it, so fun to look out for all the different dinos around Drumheller. So much, we created a fun game called Drumheller Dinosaur Bingo!
Drumheller Dinosaur Bingo Game
Download and print off this fun game to play with your family during your next visit to Drumheller!
11) Barneys Adventure Park- New to Drumheller!
New to Drumheller in July 2021 is Barney's Adventure Park.
There is sooo much family fun to be had at this amazing park.
Here you'll find a corn maze, pumpkin cannon, jumping pillows, dinosaur walk, a mining station, lots of games, tons of playground equipment, farm animals and much more!
You can find all the activities the park has to offer by visiting their website 👉 Barney's Adventure Park
The cost is $23 per person for the day. Kids under 3 are free.
Your admission includes all activities except the pumpkin cannons and the gem mining station. You can get your tickets here.
Other Drumheller Attractions You Might Like
The Bleriot Ferry: Cross the Red Deer River on an old-fashioned cable ferry.
The Badlands Passion Play: This spectacular play all about the life of Christ is held each July for two weeks. It draws people from across the globe. Plus, the outdoor amphitheatre is beautiful!
People come from far and wide to see this fantastic performance in the outdoor theatre. Visit their website for more details.
Rosebud Theatre: Fantastic dinner theatre venue. Visit their site here.
Red Deer River Adventures: Take a canoe or kayaking trip down the Red Deer River. For more information, visit their Facebook page.
Canada Day Celebrations: Drumheller does Canada Day to the max! You won't regret spending July 1st in this town. They have a great parade, a huge market, lots of great activities throughout the day, and an impressive fireworks show.
Fossil World: A place your kids will love! Some of the highlights of this place are the fossil dig, mineral mining, and the animatronic dinosaur. Check out their website for more information. (There are mixed reviews about this place. Our kids liked the fossil dig and mineral mining, but we found it to be costly.) 
Guided Ghost Walk Tours: All ages can take part in this spooky tour of Drumheller's old downtown. Tours take place on Friday and Saturday nights. Click here for more information.
Bikes & Bites – NEW to Drumheller in 2021- Explore the Drumheller valley on an ebike! And pick up a picnic lunch at the same time! Check out their website 👉 Bikes & Bites, for more information or to reserve your bike or order a picnic.
Resources For Planning
Travel Drumheller: The town's official site for tourism in Drumheller valley. (After a bit of poking around on this site, I noticed that it is quite out of date. Especially the shopping and food & drink sections)
Canadian Badlands: A website dedicated to tourism in the Badlands.
Day Trips From Calgary by Bill Corbett: A book all about taking fun day trips from Calgary.
Save It For Later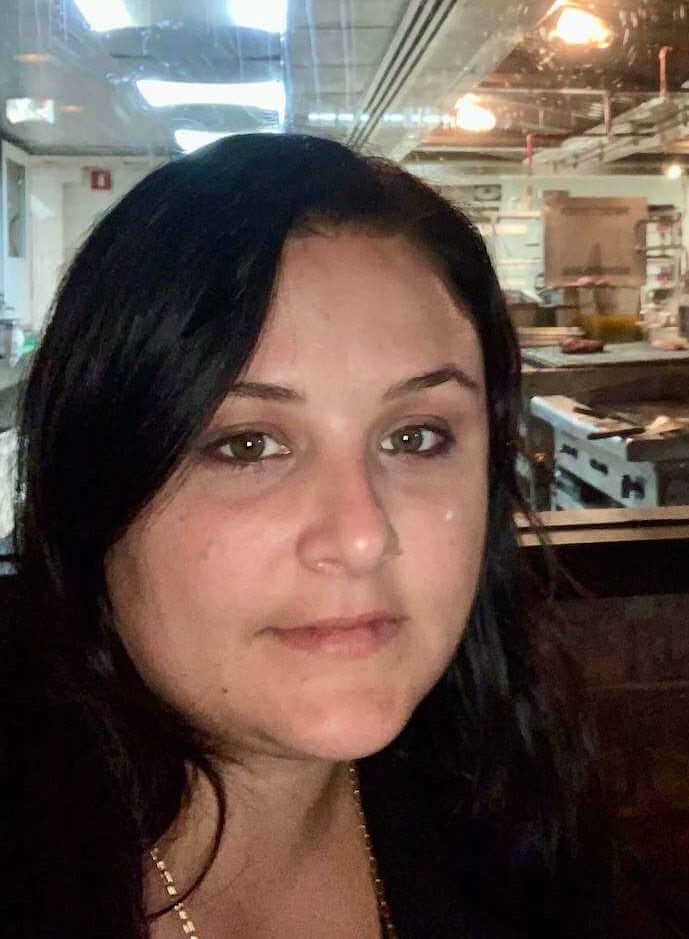 Mom to 3 awesome kids, several pets and married to a big kid who makes me laugh.  My goal is to inspire moms like me to find ways to travel and reconnect with their families.